Tasty Prince Edward Island Potato Recipes
Dilly PEI Potato Salad
A great salad, easily and quickly prepared. Makes 4 servings.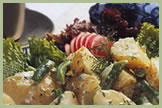 INGREDIENTS:
3 cups
new PEI Potatoes, cubed
750ml
6 tbsp
bottled cucumber salad dressing
75ml
2 tbsp
fresh dill, chopped
25ml
OR
1-2 tsp
dried dill (dill weed)
5-10ml
1/2 cup
fresh asparagus or green beans
125ml
Wash and cut potatoes in large cubes. Cook until tender, drain. While still hot blend in cucumber dressing and dill. Meanwhile cook until tender crisp the asparagus or green beans; cut into 1inch lengths. Blend into salad. Refrigerate covered or serve immediately.
TIP
: When new PEI Potatoes are not available use mature potatoes and remove the skins, if desired.
PEI Potato Salad with Tuna
Potato salads are always popular. Marinate leftover potatoes from dinner tonight for a tasty salad tomorrow. Makes 4 servings.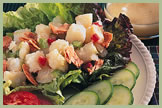 INGREDIENTS:
4
medium cooked PEI potatoes
4
1/2 cup
bottled Italian dressing, divided
125ml
1
7 ½ oz (213g) can salmon or
tuna, flaked
1
1/4 cup
chopped celery
50ml
2 tbsp
sliced green onion
25ml
1/4 cup
chopped green and red pepper
50ml
to taste
Salt and pepper
to taste
to garnish
Lettuce, tomato and cucumber slices
to garnish
Reheat leftover potatoes in microwave for 2 minutes on HIGH; peel, if needed. Cut in chunks. Pour ¼ cup (50ml) of dressing over potatoes; mix gently and refrigerate. Marinate potatoes several hours or overnight. At serving time add remaining dressing and rest of ingredients except lettuce, tomato and cucumbers. Toss gently. Arrange salad on lettuce leaves with cucumber and tomato slices.
PEI Potato and Tomato Scallop
A wonderful combination of PEI Potatoes and stewed tomatoes. Leftover potatoes can be
used or microwave your potatoes and then peel and slice. Makes 6 servings.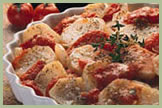 INGREDIENTS:
4-5
PEI Potatoes cut in ¼ inch (6mm) slices
4-5
1
onion, finely chopped
1
1/4 tsp
pepper
1ml
1 tsp
dried thyme
5ml
1/3 cup
Parmesan cheese
75ml
19 oz
can stewed tomatoes
540 ml
Butter a 12 cup (3 litre) microwave safe casserole dish. Layer ½ of potatoes, tomatoes, thyme, onion, pepper, and cheese. Repeat layers. Cover and cook in microwave 12 - 15 minutes on High or until potatoes are tender. Turn casserole dish ¼ turn once during cooking.
TIP
: Reduce your cooking time by thinly slicing potatoes and/or using a large flat casserole dish.
PEI Potato Vegetable Layers
Preparation time: 20 minutes. Cooking time: 1 hour. Makes 6 servings.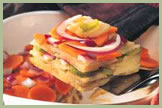 INGREDIENTS:
1 tbsp
margarine or butter
15ml
1 tbsp
brown sugar
15ml
1
red onion, chopped
1
2
carrots, sliced thinly
2
2
large PEI Potatoes, thinly sliced
2
to taste
salt & pepper
to taste
2
stalks celery, sliced
2
3/4 cup
turnip or rutabaga, thinly sliced
175ml
Melt margarine in medium skillet over medium heat. Cook onions five minutes. In a 9inch (23 cm) pie plate, layer potatoes, celery, 1/3 cooked onions, turnip or rutabaga, then sprinkle with brown sugar, 1/3 onions, carrots, 1/3 onions. Sprinkle each layer very lightly with salt and pepper. Cover and bake at 375ºF (190ºC) for 1 hour until vegetables are tender.
Roasted PEI Potatoes & Peppers
Preparation and cooking time: 40 minutes. Serves 4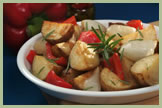 INGREDIENTS:
1 1/2 lbs
small new PEI Potatoes
750 g
1
onion
1
1
red, yellow or orange pepper
1
1 1/2 tbsp
olive oil
20 ml
1
clove garlic, crushed
1
1 tsp
dried rosemary (optional)
5 ml
1/8 tsp
salt
0.5 ml
1/8 tsp
pepper
0.5 ml
Preheat oven to 375°F (190°C). Wash potatoes. Halve or quarter larger potatoes. Cut onion into eight pieces. Cut peppers into one-inch pieces. Combine oil and seasonings in a plastic bag. Add vegetables and shake to coat with seasonings. Place in shallow dish and bake uncovered in the oven, until potatoes are tender, about 40-45 minutes, stirring once.
All recipes courtesy of the
Prince Edward Island Potato Board